Mirielle Annabeth Carr
---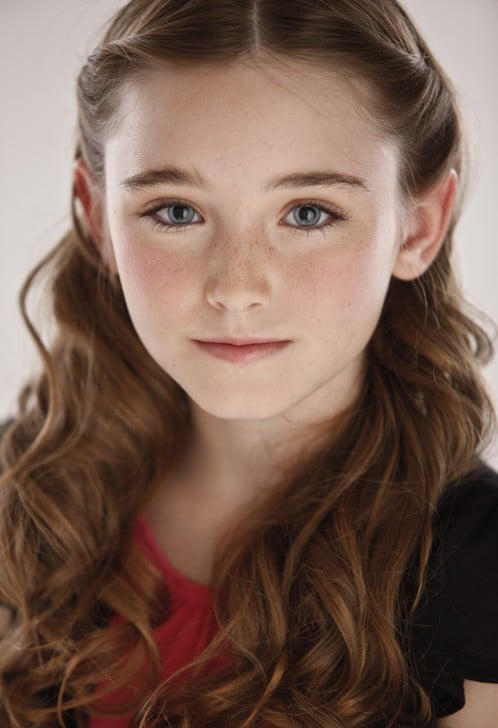 ----------------------------
Basics
----------------------------
Age:
12
D.O.B:
October 19
Birthplace:
England
Current location:
Hogwarts
Blood status:
Halfblood
Prefered Hogwarts House:
Hufflepuff
----------------------------
Appearance
----------------------------
Hair style and colour:
Light brown, usually down and straight unless she decides to style it.
Height:
4'8"
Eye colour:
Blue-grey
Body type:
Slim
Dress sense:
Fashionable, but when she's alone, she dressed however she likes.
Other:
Light freckles on her nose; pierced ears.
----------------------------
Personality
----------------------------
Likes:
-Dressing up
-Fairytales
-Desserts
-Photography
-Dancing, singing
-Laughing
Dislikes:
-The dark
-Dirt
-Being late to anything/people who are late to everything
-Rude people
-Scary things
Quirks:
-Mirielle cocks her head to one side when she's confused about something or thinking deeply
-She hops on one foot, claps her hands, and squeals when she's particularly pleased/excited about a piece of clothing she made or saw.
Flaws:
-She can be a bit of a spoiled brat when she doesn't get her way.
-Mirielle can be insultingly bold. If she sees something she doesn't like about someone, she makes her opinion known, most of the time not so tactfully.
-She's quite absent-minded, especially when she's thinking about styles and fashion.
-Rather impulsive
Strengths:
-Fashion; She has an excellent eye for fashion and style and can come up with the most unique but amazing outfits from scratch.
-Sewing; Since she tries not to spend too much money on endless new clothes, she creates her own.
-Kindness; Mirielle is an extremely kind person and will not hesitate to offer assistance.
-Independent; she likes to be able to rely on herself and take care of herself
-Dancing, modelling, singing; she's a talented dancer, in both ballet and contemporary
Weaknesses:
-Anything to do with fashion; Mirielle can't say no to shopping/browsing
-Anything soft and cuddly, especially teddy bears.
-Studies; Mirielle is slower in her studies, especially if it requires a lot of reading and memorizing.
----------------------------
Background
----------------------------
Vanessa, a French-Canadian beauty, attended university in England where she met and fell in love with Weston. After a long relationship full of complications and ups and down, they finally wed and settled down in England.
Two years after they got married, Vanessa became pregnant with Mirielle and gave birth to her prematurely. She was hooked to countless tubes and machinery working to keep her tiny body alive. Doctors said the chances of her surviving were very slim, especially since she caught an infection, but Mirielle fought and pulled through. She stayed at the hospital until she was stable enough to go home.
It was a tough first few years with many visits to the hospital for checkups. Since Mirielle was quite prone to falling ill, her parents didn't let her go out much, preferring to homeschool her. As such, she became a lonely child, always staring out her window at the other kids laughing and having fun outside. It wasn't until she was seven and received a clean bill of health that her parents loosened the reins a little. Mirielle went all out, proving to be quite the social butterfly, and making many friends.
She discovered her talent for dancing when attending a friend's birthday party. She started dancing to the music naturally. One of the parents there was friends with his cousin's ex-wife's step uncle who was a talent scout. After meeting Mirielle and her parents, he got her into the modelling scene where she was well received. At the same time, her parents signed her up for dance lessons where she excelled and won many competitions.
When she received her Hogwarts letter, she was ecstatic, begging her somewhat reluctant parents to let her go. They were worried about letting her out of their sight but eventually gave in to her urging her with many warnings and reminders to call them if anything happened.
----------------------------
Family
----------------------------
Father:
Weston Carr
Mother:
 Vanessa Carr (neé Lincoln)
Siblings:
-
----------------------------
Other (Optional)
----------------------------
Wand:
Fir, Dragon Heartstring, 10 inches
Broomstick:
-
Pets:
A grey tabby cat named Anklet
----------------------------
OOC
----------------------------
OOC Alias:
Lyd